Lessons Learned from Ecosystem Building in Oregon: Lesson 2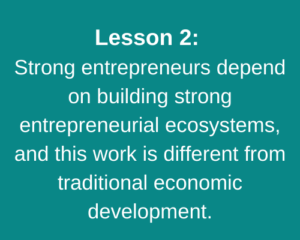 "This work is about providing hope to communities that have been decimated by structural changes in the economy."
– Kat Rutledge, Director of Klamath IDEA
For rural entrepreneurs to succeed, there needs to be a strong entrepreneurial ecosystem to support them, which includes market opportunities, access to support services and financing, reasonable policies and regulations, and at the heart of it all, a positive and supportive culture – "possibility + tools + love" as Mike Skinner, Executive Director of the Center for Inclusive Entrepreneurship, put it.
Many communities struggle to know how to support their existing small businesses, lean more heavily into trying to attract larger traded sector companies, and pay the least attention to aspiring entrepreneurs. We don't dismiss the importance of attraction as one of the tools in the economic development toolbox, but rather see it as a gap filling strategy to be used after nurturing existing businesses and cultivating new entrepreneurs. This approach directs critical resources toward homegrown businesses and entrepreneurs first to increase their chances of success, and this success results in greater control of local assets, more dollars circulating in the local economy, and more resilient, long-term forms of wealth building.
This entrepreneurial ecosystem building involves the hard, long-term work of building a culture of support to entrepreneurs, and building up people to believe they can lead change in their communities. It involves changing a culture and giving people hope and the belief that they can succeed, and then ensuring they have access to resources they need to succeed. This work comes with new terminology, partnerships, processes, outcomes and metrics. It is initially measured in terms of human capacity, social connections, and support systems. Only after establishing the ecosystem can you start to measure traditional metrics such as jobs, capital, and the bottom line. But when communities do this work, the results – thriving small businesses and new entrepreneurs – are more durable and rooted in the wellbeing of the community more broadly.