Lessons Learned from Ecosystem Building in Oregon: Lesson 8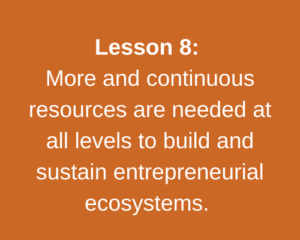 "A much longer term approach and larger investment is needed, flexible and focused on more than just traded-sector entrepreneurs."
– Sara Miller, NEOEDD Deputy Director
As noted above, rural small business entrepreneurs need a variety of tailored support services as they journey along their pathway of entrepreneurship. Similarly, hub organizations need a variety of tailored support services from regional and state level organizations as they form and grow their ecosystems.
As the technical assistance providers for the Kauffman funded grant, RDI, Foundry Collective, and Kelley Nonprofit Consulting found that different organizations needed different types of assistance at different times, and that our three complementary organizations were able to lean in in different ways at different times for the six communities we were supporting. (We provided a wide variety of support services, including fundraising and marketing for hub organizations, designing, training and delivering programs for entrepreneurs, incubator development, facilitating peer learnings and stakeholder conversations, developing measurement tools, and guiding communities through entrepreneur development and business engagement planning processes.) Part of the impact of this work has been the flexible and responsive nature of the services provided, which has been particularly beneficial during COVID-19. Other regional and state technical assistance providers include but are not limited to State Main Street organizations, the Small Business Development Center network, Center for Inclusive Entrepreneurship (based in WA), and Oregon RAIN.
Stakeholders are challenged to find funding for this ecosystem building work, in part because of its relative newness and unfamiliarity, the long-term duration and culture-changing aspects of the work, the variety of needs and aspirations, and because roles, partnerships and systems are quite fluid. Therefore, to build the most effective ecosystem across the rural PNW, resources and coordination are needed at three levels:
Support for small business entrepreneurs
Support for community based hub organizations
Support for regional and state level organizations that build capacity of and provide technical assistance to community hub organizations.
Entrepreneur level:
"There are a lot of really creative and innovative entrepreneurs that live in rural communities. But access to capital isn't always something that is easy to come by. Putting our heads together collectively in economic development and in the traditional finance worlds is vital for the next generation of producers for our communities."
– Kristen Penner, Commercial Fisherman, Garibaldi, OR
Community Hub Level:
"Our biggest challenge is capacity building. How can we get the resources to get more people supporting the effort? And how can we sustain the funding runway beyond a year so we're not going through ebbs and flows?"
– Kate Schwarzler, Owner, Indy Commons
"There are a lot of good tools and resources out there to help build ecosystems and support entrepreneurs, but we need local people power to help build the relationships in the entrepreneurial ecosystem for businesses to utilize those tools and resources. Building relationships is time consuming and needs to be funded as a foundational aspect of getting good programs on the ground."
– Brenda Smith, Executive Director, High Desert Partnership
Regional / State Level:
"Entrepreneurial ecosystem-building depends on partnerships. It takes a community to raise an entrepreneur, so finding ways for ecosystem partners to collaborate, share resources, fill ecosystem gaps more efficiently, and educate funders about the unique value of all partners will be key to the sustainability of rural vitality."
– Caroline Cummings, CEO, RAIN
ROI funding from the Ewing Marion Kauffman Foundation and Business Oregon have been and continue to be important early investments in entrepreneurial ecosystems. Kat Rutledge described the ROI program this way: "The ROI program is not a ton of money, but it has been really important, patient money for rural places trying to do this work." We need more foundations and agencies with an understanding of and ability to support this ongoing work.