Rural Communities in Action: First-Person Stories
Interviewed by Sarah Fox, Sense of Place Host and Curator and Producer of the Podcast, Hear in the Gorge, with Elizur Bello, Next Door, Inc.; Caroline Lipps; Lauren Kraemer, College of Public Health and Human Sciences with Oregon State University Extension Service
Understand how rural communities are dealing with events "on the ground," from people who have lived through the economic, pandemic, and wildfire events that define 2020.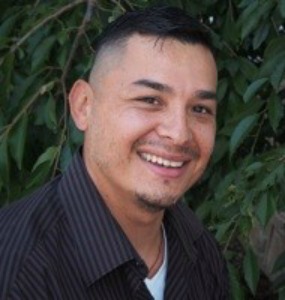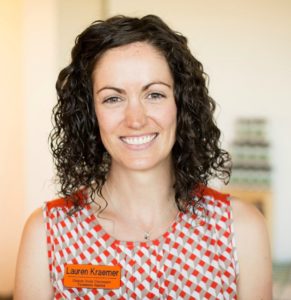 Elizur Bello
Director of Programs
The Next Door, Inc.
Elizur Bello serves as the director of programs for The Next Door, Inc., a social service organization that strengthens children and families and improves communities in seven counties in the mid-Columbia region. Elizur previously served as the program manager of Nuestra Comunidad Sana for three years. Elizur spent over 10 years as a community health worker at both One Community Health (OCH) and Nuestra Comunidad Sana while working towards his Bachelor of Arts – Physical Education at Seattle Pacific University. At OCH he worked as a diabetes and chronic disease health promoter. Elizur earned his Master of Social Work at Portland State University to help address mental health issues faced by Latino and disadvantaged community members in a culturally sensitive manner.
Additionally, in 2016 Elizur was honored to have been selected as the Oregon Public Health Institute's (OPHI), 2015 Emerging Leader Award recipient. The Genius Award was established in 2002 to honor individuals and groups who make significant and lasting change in support of the public's health. Additionally, Elizur participated in Oregon Health Authority's Oregon Clinical Innovation Fellows Program where he completed conceptualizing a Mental Health Promotion program for Latinos in the Gorge region, and looks forward to the implementation of the program, Valle Verde (Green Valley).
Lauren Kraemer
College of Public Health and Human Sciences with Oregon State University Extension Service
Lauren Kraemer, MPH is an Assistant Professor of Practice in the College of Public Health and Human Sciences with Oregon State University Extension Service. Lauren's research and programming interests include chronic disease prevention and health promotion through interventions in nutrition and physical activity, as well as the development of policies, systems, and environmental shifts to enhance health equity and address social determinants of health. Lauren has held a number of roles on boards, committees, and coalitions at the local and regional level. She currently serves as the Co-Chair of the Food Policy Committee and is a steering committee member for the regional Columbia Gorge Food Security Coalition, the Migrant and Seasonal Farm Worker Taskforce, the chair of the Healthy Active Hood River County Coalition and the Statewide Ambassador for the StrongWomen™ Program. In these roles, Lauren gets to work at the intersection of food systems, food security, aging, and health equity. This blends her work with the Supplemental Nutrition Assistance Program Education that she manages for the Mid-Columbia region with numerous collaborative projects across sectors with many community partners. Lauren's passions are making connections, creativity, and empowering others. Lauren is an avid gardener, home cook, outdoor enthusiast, and novice ukulele player. She has two sons who she brings into the kitchen and the garden as much as she can so they can learn to grow and prepare food on their own someday.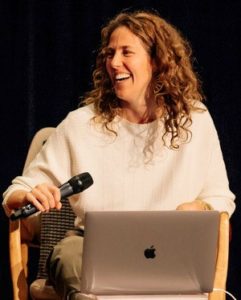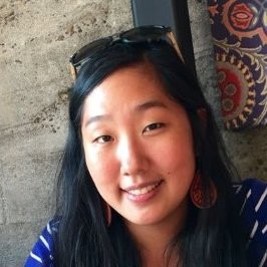 Sarah Fox
Sense of Place Host and Curator and Producer of the Podcast, Hear in the Gorge
Sarah Fox, a multimedia producer, helps non-profits, businesses, government agencies, and people dig into a story and then figure out the best way to share it with others. Sometimes it's an audio piece, sometimes it's video, sometimes it's written. She finds stories, researches them, interviews people, writes/edits, and makes sure all that turns into a final product. She says the most important tool she has is being an expert in nothing and curious about darn near everything. "I mean, what the hell was Woody Guthrie doing in the basement of the Bonneville Power Administration in 1941? And why was the tiny town of Hood River, Oregon known across the nation as a hotbed for anti-Japanese sentiment? And let's say you're out on a day-hike and something goes wrong. Do you have any idea who will come to help you and how long it will take?" At the end of the day, Sarah wants to amplify the stories she learns. Which sounds really simple. And actually, she says she thinks it is, which is part of the reason "I like it so much. It's been a circuitous route that got me here. It's nothing crazy really, maybe something worth talking about over coffee or beers since it'll help you understand why I care so much about the work I do and the people I meet. But for now, you should just go hear some of the people for yourself."
Caroline Lipps
Owner, Thunder Island Brewing Company
Caroline Lipps is the Co-Owner of Thunder Island Brewing Company, an adventure-based seven-barrel brewery that has been handcrafting creative and innovative beers in the City of Cascades Locks since 2013. In 2018, Caroline was awarded the Outstanding Oregon Tourism Volunteer Award as the result of her strength, ingenuity and resilience in creating Cascade Locks Strong in the wake of the 2017 Eagle Creek Fire. Cascade Locks Strong, a campaign and online shopping portal for people to buy gift certificates to support businesses in Cascade Locks to help create much-needed cash flow in the community. Caroline is a community-minded business professional and entrepreneur who graduated from Santa Clara University with a degree in Political Science.