Rural Idaho Community Creates Homegrown Opportunity for Youth Entrepreneurs in Emmett
One community leader's passion for youth entrepreneurship combined with community support has resulted in a successful endeavor for this vibrant small city in Idaho's Treasure Valley. Emmett, with a population of about 7,819 and located in Gem County in Southwestern Idaho, is home to the annual Kids Only Bazaar, a unique and successful youth entrepreneurship opportunity.
Homegrown & Handmade – The Kids Only Bazaar
Started in the spring of 2020 and sponsored by the Kiwanis Club of Emmett, the bazaar is an event where kids 16 and younger get an opportunity to sell their handmade and homegrown items, and at the same time, learn to run a home-based business, acquire customer service skills, and earn money.
The idea was born from the Roy A. Bowman Family Memorial Park property manager and Kiwanis member, Barbara Huguenin. The park, donated to the Kiwanis in 2018 by Emmett resident Roy Bowman, is located on the corner of Main Street and Washington in historic downtown Emmett. Previously owned by a Washington company, Bowman's generous donation allows the Kiwanis to keep the property a park. Barbara had been scheduling fundraising events to help maintain the park and to help small local businesses, and when the Kiwanis acquired the park, she approached them with her idea for the Kids Only Bazaar and a request to sponsor the project, which fits the Kiwanis mission of supporting youth.
"The community is always available when I need them. We have a phenomenal group of people in our town." ~ Barbara Huguenin, Kids Only Bazaar Founder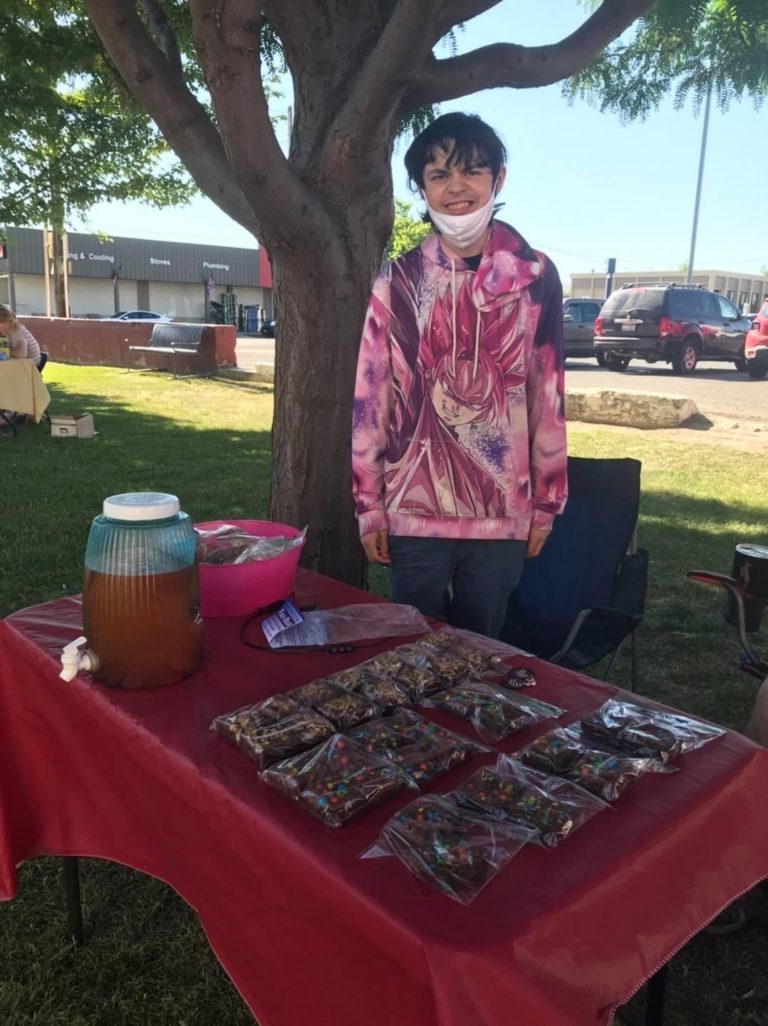 Early Success Due to Community Engagement
Barbara found early success due in part to the community's active involvement with Facebook; once Kiwanis agreed to sponsor the event, she got to work setting a date for the first bazaar, asked parents to get involved, and promoted the idea. Kids Only Bazaar is now held one Saturday a month from June through September at the Roy A. Bowman Family Memorial Park.
Creations are strictly made and grown by the youth participants and range from paintings, toys, ornaments, baked goods, candies, lemonade, wood swords, plants, fruits, vegetables, clothing, jewelry, soaps, candles, snow cones, lavender products, popcorn, crocheted and knitted items, keychains, painted rocks, and vinyl decals.
Barbara organizes the Kids Only Bazaar herself; however, she says, "the community is always available when I need them. We have a phenomenal group of people in our town." This has made the event run smoothly and made it a win-win for everyone. The first challenges they faced were COVID restrictions, and despite the challenges for the youth to stay engaged and maintain enthusiasm as the months go on, the kids have been extremely successful in both earning money and in learning about running a business. As Barbara pointed out, the challenges are "part of learning about the ups and downs of owning a business." Each Bazaar vendor is required to pay $5 per event, which is donated to the Kiwanis Club of Emmett. Youth participants learn that this is part of overhead expenses, and they are aware that their $5 helps keep their local park looking pretty.
Inspiring Youth to Think Like Entrepreneurs
Starting out with eight kids in the first year, the number of participants increased exponentially by 2022. Community members find the bazaar fun and rewarding — many people shop just to support the kids.
Kids Only Bazaar has gone smoothly from the beginning, but Barbara has advice for others who may be interested in starting a project like this in their community. There are a few necessary steps to organizing a vendor event, including identifying an appropriate location and getting approvals from property owners. Kids Only Bazaar requires vendors to always have a parent or guardian present at the vendor booth. And Barbara emphasizes the fact that it is vital to promote the value of an effort like this: it teaches kids about customer service, handling cash, profit and loss, overhead fees, responsibility, commitment, and more.
After just three years, and the combination of one person's vision, commitment, and passion, and community support, Kids Only Bazaar is a success and is inspiring youth to think like entrepreneurs and understand what is involved in running a business. Inspiring the next generation of entrepreneurs and supporting small businesses are priorities of the local Main Street organization, and Kids Only Bazaar is the type of program they are excited to see in their community.
"The Kids Only Bazaar teaches kids to become entrepreneurs. They get a chance to launch, promote and showcase their business, and product. These entrepreneurs are the next generation that will be opening a small business in our community. This event brings the community down to our business district and helps promote shop local," reflected Tina Hefley, CEO of the Gem County Chamber of Commerce.
"These entrepreneurs are the next generation that will be opening a small business in our community." ~ Tina Hefley, CEO, Gem County Chamber of Commerce
Photo Credit: Barbara Huguenin; Kiwanis Club of Emmett